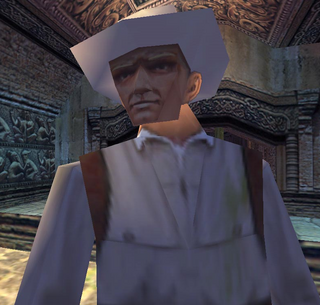 Werner Von Croy
Werner Von Croy is a world renowned archaeologist and explorer, and also the mentor of the young Lara Croft. He was born in Vienna, Austria in 1940.
When Lara was sixteen years old, Von Croy took her on a journey to Angkor Wat in Cambodia for her very first adventure in 1984 in a training level at the start of the game in Tomb Raider: The Last Revelation. The purpose of this exercise was to instruct Lara in exploration techniques and also to instill a respect for the past in her; for the gamer, this acts an introductory and training level. Ironically, Von Croy's downfall comes as a result of his greed, as when he reaches the sanctuary of the Iris in Angkor Wat, he completely disrespects the temple carvings which warn vengeance on those who remove the Iris. These events are covered in the first two levels, Angkor Wat and Race For The Iris. At the conclusion of Race For The Iris, Von Croy is left entombed in the sanctuary while Lara escapes.
Fifteen years later, and Von Croy encounters Lara again; this time contesting his attempts to claim the Amulet of Horus from the Tomb of Set in the Valley of the Kings. During the events of the game, Von Croy is possessed by the god Set, as a vessel through which Set can complete his objectives.
Von Croy witnesses Lara's apparent death at the Temple of Horus underneath the Great Pyramid. He offers her assistance, but the tomb collapses on top of Lara and Von Croy, mirroring the start of the game, only just makes it to safety. Thus ends Tomb Raider: The Last Revelation.
In Tomb Raider Chronicles, a story was told of Lara's past in which she recovers the Iris from Von Croy in his high-tech American business headquarters called Von Croy Industries (VCI). This also is also the first appearance of Zip, Lara's technological partner. At the end of this game a cutscene plays with Von Croy and a digging team finding Lara's backpack in the ruins, picking up from the end of Tomb Raider: The Last Revelation.
Between the events of The Last Revelation and Lara Croft Tomb Raider: The Angel of Darkness, Von Croy finds Lara again in Egypt. However, Lara seems unable to forgive Werner's actions in Egypt. Lara visits Von Croy's apartment in Paris at his request. However, he is murdered by the Monstrum, a serial killer but Lara is suspected of his murder, and The Angel Of Darkness begins.
Featured Images