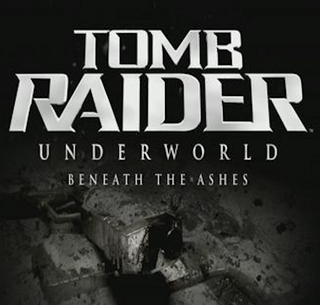 Tomb Raider 8 - Beneath The AshesEdit
As in the main game, the player controls Lara during Beneath the Ashes. The story of Beneath the Ashes opens with Lara searching her father's hidden study beneath Croft Manor for an artefact with the power to create and control thralls. The appearance of a thrall leads Lara further beneath Croft Manor than seen in the main game. Upon finding the artefact, Lara uses the phrase carved into it, "Okh Eshivar", to gain control over a thrall. The Doppelgänger suddenly appears and charges towards Lara. Lara orders the thrall to "kill", but the Doppelgänger easily destroys it. Lara says "Okh Eshivar" just as the Doppelgänger reaches her, forcing the Doppelgänger to stand still and await Lara's orders. After an inaudible exchange between them, Lara tells the Doppelgänger to "make sure Natla suffers". Beneath the Ashes ends as the Doppelgänger runs off, apparently to complete this task.
Beneath The Ashes is one of two downloadable chapters from Tomb Raider Underworld. After an agreement with Microsoft, Eidos officialy made an announcement of releasing one of two downloadble chapters on the XBOX Live Marketplace.
It also had another bonus('s), for example; it also included two brand new outfits, created by Quebec fashion designers. For those two outfits, it was also announced that they will be free from the XBOX Live Marketplace. On 15 December 2008, Eidos announced that the two new outfits were; the Legend outfit and the Classic outfit. Therefore; on 30 December 2008, two more outfits were available. Simultaneously, they both turned out to be additional wetsuits.
Beneath the Ashes was released on the 10th of February 2009.
Featured Images
Edit