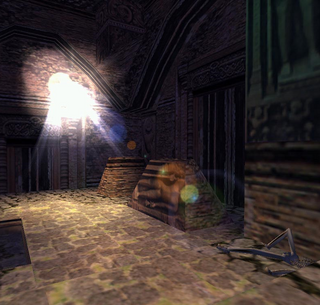 Angkor Wat
Angkor Wat is the name of the first level of Tomb Raider: The Last Revelation, as well as of the ancient temple in Cambodia, where the first two levels of this game are set. It is framed as a flashback of Lara's own training as an archaeologist-adventurer, and serves as training level for the players as well. Lara is accompanied by her mentor, Werner Von Croy, who teaches her (and by extension, the players) how to move around in her environment.
Summary
The level begins with Von Croy and Lara breaking down a wall to enter a part of the temple complex. Von Croy then proceeds to guide Lara to the area housing the artefact they are looking for, the Iris (though this is not reached until the next level, Race for the Iris).
This level is interspersed with a number of short cutscenes where Von Croy stops to instruct Lara. The banter between the two also continues during gameplay. Towards the end of the level, they come to a fork in the path - Von Croy tells Lara that they can follow either the Heretical route or the path of the Virtuous. Lara's response is determined by the player's action upto that point.
If the player has found all eight secrets in the level, Lara opts for the Heretical path (i.e., the harder one), or else she chooses the Virtuous path. The rooms at the end of both paths are nearly identical, except for the presence of a pool in the Virtuous one. But the choice makes a major difference in the next level, as following the Heretical path leads to a more difficult race, and the Virtuous one a much easier.
Levels
Featured Images